Lanzarote Guesthouses
European Explorer is proud to offer you a secure online booking environment for a select number of guesthouses in Lanzarote, Spain. Below you will find a brief description of each featured guesthouse in Lanzarote, Spain. Simply clicking on the 'more guesthouse information' link will transfer you to further information such as room types offered and accommodation rates for your selected Lanzarote Guesthouse. From here you will be able to check availability and make a secure guesthouse reservation for when you arrive in Spain.
El Mar y Tu (Guesthouse)


Calle La Garita 54, Arrieta, Lanzarote, Spain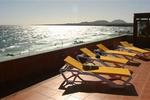 Discover Lanzarote and enjoy the holiday away from the mass tourism in Arrieta, a picturesque fishing village in the north-east of the island. 'El Mar y Tu' or 'The Sea and You' offers you an extraordinary building, directly on the sea, with 4 individual decorated lofts/apartments overlooking the sea. In each loft you will find a fully fitted kitchen, a nice spaces bathroom with shower and a livin ...
| | |
| --- | --- |
| RATES FROM : €40.00 / £33.84 / $54.49 US | |
La Casa Blanca (Guesthouse)


C/ Los Parranderos 3, Soo, Lanzarote, Spain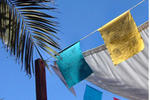 At La Casa Blanca,you bask in peace and tranquility. Lanzarote, the northernmost of the Canary Islands, is characterized by diverse beautiful and impressive landscapes. There is truly no other place like it, not even within the archipelago.Here you'll find a paradise for painters, photographers and nature lovers.A peaceful place where silence reigns and a unique atmospher ...
| | |
| --- | --- |
| RATES FROM : €24.50 / £20.73 / $33.37 US | |
Casitas Tabayesco (Guesthouse)


Calle Chafariz 26, Tabayesco.Haria. Lanzarote., Lanzarote, Canary Islands, Spain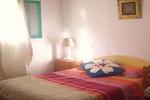 Go Rustic in Lanzarote and discover the hidden secrets of the north.....Our beautiful Casa and casitas are situated in the picturesque village of Tabayesco overlooking La Garita Beach, Arrieta. So if you are looking for sunshine, a bit of canarian culture, desert island white sandy beaches... and enchanting caves; we are in the perfect location...(Bicycles also available for rental.. ...
| | |
| --- | --- |
| RATES FROM : €12.50 / £10.58 / $17.03 US | |
European Explorer would like to wish you an enjoyable stay in Lanzarote, Spain.