Maribor Hostels
European Explorer is proud to offer you a secure online booking environment for a select number of hostels in Maribor, Slovenia. Below you will find a brief description of each featured hostel in Maribor, Slovenia. Simply clicking on the 'more information' link will transfer you to further information such as room types offered and accommodation rates for your selected Maribor Hostel. From here you will be able to check availability and make a secure hostel reservation for when you arrive in Maribor.
Youth Hostel Uni Hotel (Hostel)


Volkmerjev Prehod 7, Maribor, Slovenia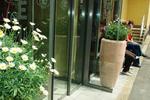 YOUTH HOSTEL UNI HOTELMaribor's most central youth hostel which was rewardes with 5 triangels , the highest level of YH categorisation in Slovenia.- in the centre of the city of Maribor (historical and cultural centre)- ALL ROOMS are furnished with private bathroom, mini-fridge, cable TV,telephone and internet connection- bar / restaruant in the building- open 24 hours and ...
| | |
| --- | --- |
| RATES FROM : €27.00 / £22.84 / $36.78 US | |
Lollipop Hostel (Hostel)


Maistrova Ulica 17, Maribor, Slovenia
Top rated Maribor hostel 2008- 2009-2010-2011A friendly, welcoming true travelers/backpackers hostel in the old town centre of Maribor, a welcoming drink to ease you into your stay, full map guide of the areas highlights and your bed already made for your arrival.For your convenience there is no curfew. Free Internet.Lollipop Hostel the best value ...
| | |
| --- | --- |
| RATES FROM : €18.00 / £15.23 / $24.52 US | |
Hostel Pekarna (Hostel)


16 Ob Zeleznici, Maribor, Slovenia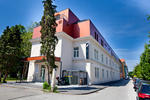 Hostel Pekarna is situated on the right bank of the river Drava, right next to Magdalenski park, close to the town centre.Hostel Pekarna is part of the Cultural centre Pekarna, a building complex that used to be a bakery, built at the turn of the century by the Austro-Hungarian army for the purpose of bread supply for the nearby barracks.Wholly renovated and modernly designed Hoste ...
| | |
| --- | --- |
| RATES FROM : €17.00 / £14.38 / $23.16 US | |
Gozdna Villa Mari (Apartment)


Pot k Mlinu 50, Maribor, Stajerska, Slovenia
Welcome to Gozdna Villa Mari. We offer our guests a relaxed stay with a beautiful view of Pohorje. Special children's corners are located in individual apartments, and so your children can develop their creative abilities and have enjoyable playtime. The night lit ski slope in the winter and the green forest in the summer are perfect for athletes, families, businessmen and individual guest ...
| | |
| --- | --- |
| RATES FROM : €30.00 / £25.38 / $40.86 US | |
Maribor Apartment (Apartment)


Po?tna ul. 3, terčeva ul. 25, Maribor, Slovenia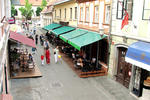 The Guba apartment is located on lovely Postna Street in a very center of Maribor old city (pedestrian zone) lined with traditional houses, cafes and boutiques, just a minute of walk from Slomsek Square. It is ideal base from which to explore the Maribor tourist attractions or to go hiking and biking around the city or elsewhere on Pohorje.Recently renovated 55 sq. meters apartment in Mari ...
| | |
| --- | --- |
| RATES FROM : €30.00 / £25.38 / $40.86 US | |
Apartmen Pohorje - Maribor (Apartment)


Ob ribniku 66, Maribor, Slovenia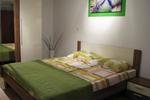 The apartment is situated in the vicinity of Pohorje, only a short walk from shops, cash machine and bus stop. In the surrounding you can do many sport activities, like skiing, hiking, biking, plus you can try how good you are in adrenalin activities. Apartment offers two comfortable rooms with shared bathroom and kitchen (cooker, oven, fridge, dishwasher plus everything what you need for ...
| | |
| --- | --- |
| RATES FROM : €20.00 / £16.92 / $27.24 US | |
Hotel Piramida (Hotel)


Grajski trg 3, Maribor, Slovenia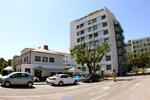 Hotel Piramida is ideal for the business or leisure traveller and ideally situated in the centre of Maribar close to the train station.The Piramida hotel is renovating a total of 34 hotel rooms for its guests. From 20 January 2010, we are looking forward to accommodating you in these new rooms, the newest in the city of Maribor. Quality materials, interesting ambience furniture made of natural ...
| | |
| --- | --- |
| RATES FROM : €43.00 / £36.38 / $58.57 US | |
Hotel Orel Sl (Hotel)


Volkmerjev prehod 7, Maribor, Maribor, Slovenia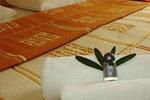 Three star city hotel, located in the centre of the old Maribor city core, has a long-standing tradition and was completely renovated. It is just a few minutes walk from the casino and theatre. It is in the immediate vicinity of the business and shopping centre as well as the historical and culture sights of Maribor.Hotel has a capacity of 117 beds in 71 rooms. All rooms a ...
| | |
| --- | --- |
| RATES FROM : €40.00 / £33.84 / $54.49 US | |
Hotel Tabor (Hotel)


Ulica Heroja Zidanska 18, Maribor, Podravje, Slovenia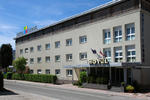 Hotel Tabor*** is a cosy, family-run city hotel, located in the centre of Maribor city, on the way from Old Town (15 min wlak) to skiing and recreational centre Pohorje Hills (3,5 km). It lies in the immediate vicinity of the sports and event centre Dvorana Tabor and offers 24-hours front desk. Ambient Hotel Tabor is a themed hotel for people with active lifestyle. With its warmth and hosp ...
| | |
| --- | --- |
| RATES FROM : €24.75 / £20.94 / $33.71 US | |
Hotel Bau (Hotel)


Limbu ka cesta 85, Maribor, Maribor, Slovenia
Hotel Bau is a small family run hotel, situated only 5 minutes away from the centre of the town, in the wellknown skiing centre Pohorje.The centre of the town is only 3 km away; the same distance sets you apart from Pohorje, where the whole year a lot of activities are possible; walking, hiking, skiing, mountain biking There are 16 tastefully decorated rooms, which are all classifi ...
| | |
| --- | --- |
| RATES FROM : €23.80 / £20.14 / $32.42 US | |
European Explorer would like to wish you an enjoyable stay in Maribor, Slovenia.