Sintra Guesthouses
European Explorer is proud to offer you a secure online booking environment for a select number of guesthouses in Sintra, Portugal. Below you will find a brief description of each featured guesthouse in Sintra, Portugal. Simply clicking on the 'more guesthouse information' link will transfer you to further information such as room types offered and accommodation rates for your selected Sintra Guesthouse. From here you will be able to check availability and make a secure guesthouse reservation for when you arrive in Portugal.
Villa Cinthia (Guesthouse)


rua do pinhal, 43, Sintra, Portugal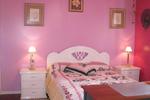 Villa Cinthia is a warm and peaceful guest-house situated in Praia das Maçãs, Sintra's coast.Surrounded by nature, Villa Cinthia offers you the chance to enjoy a relaxing time. The Villa is 2 mins drive away from several beaches, 15 mins drive from the historical Villa of Sintra (UNESCO's world heritage site) and only 40 mins drive away from Lisbon, the capital city.Swimming pool ...
| | |
| --- | --- |
| RATES FROM : €40.00 / £33.84 / $54.49 US | |
OH Casa Sintra (Guesthouse)


Rua Gago Countinho 2, Sintra, Sintra, Portugal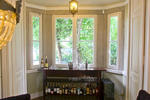 Oh Casa Sintra! A completely different way of staying in the historic heart of Sintra.A Pocketful of inspired rooms, founded with charm and filled with modern necessities for the Global WanderlustOur Philosophy We believe a hotel really needs to be open and flexible, which doesn't place any restrictions on its guest. In fact, it should do just the opposite, offering up new pos ...
| | |
| --- | --- |
| RATES FROM : €32.50 / £27.50 / $44.27 US | |
Quinta de São Thiago (Guesthouse)


Rua do Rigueirinho (Estrada de Monserrate), Sintra, Portugal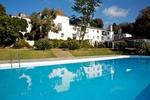 Our goal is to provide our guests with a relaxed, comfortable and unforgettable stay.We have now available 10 Bedrooms for accommodation.The house was built in the XVI century, and our clients can enjoy the most exclusive and quiet calm of Sintra, using our swimming pool and relax in our beautiful gardens, with views of the sea and nearby Monserrate Palace. Aside from the gardens and p ...
| | |
| --- | --- |
| RATES FROM : €32.50 / £27.50 / $44.27 US | |
The House of The She Pine Tree (Guesthouse)


RUA Nossa Sra. Da Piedade 25 ,, Sintra, Portugal
Welcome To The House Of The She Pine Tree! A Museum House in a XIX Century Sintra Chalet.The House of the She Pine Tree was built at the end of the XIX Century for a local farmers family, and expanded in the 30s, when it was redesigned to its Sintra Chalet looks.It sits on the highground edge of the time forgotten villages of Sabugo and Vale de Lobo, in the county of the historic t ...
| | |
| --- | --- |
| RATES FROM : €31.67 / £26.80 / $43.14 US | |
Villa Mira Longa B&B - Apartment (Guesthouse)


Estrada da Pena, 04, Sintra, Sintra, Portugal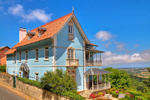 Located in Sintras Historic Center, on the hillside with a fantastic panoramic view over the Historic Center, the National Palace, the Atlantic Ocean and the Moorish Castle, the Villa Mira Longa, which was built in 1898Offers, on the second floor, an apartment with 3 double bedrooms, 2 bathrooms and a living room with kitchenette. On the first floor, one suite with private bathroom.On the ...
| | |
| --- | --- |
| RATES FROM : €30.00 / £25.38 / $40.86 US | |
Quinta Beira-Mar (Guesthouse)


Vivenda Morais Soares, Rua Da Vigia, No.12, Sintra, Portugal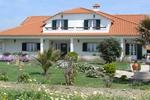 On the coast of Sintra, you'll find our family run B+B and small farm, Quinta Beira-Mar ideally located 2 mintutes from the beach.We offer double rooms (shared bathroom or ensuite) with balconies overlooking the mountains and sea. surf board hire available, special rates on horse riding can be arranged. Only fifteen minutes from Sintra and forty five minutes from Lisbon. ...
| | |
| --- | --- |
| RATES FROM : €25.00 / £21.15 / $34.05 US | |
Quinta Dos Malmequeres (Guesthouse)


Rua Padre Amaro Teixeira de Azevedo n 14, Varzea de Sintra, Sintra, Portugal
The townhouses and apartments are independent, they include all kitchenette, bathroom, living room, bedrooms and tv out on all apartment.There is a common use of a large pool (exclusive use of guests) gardens, BBQ and furniture garden, as well as tables and chairs on the terraces.Each apartment is about 60 meters squares and are very luminous double glazing.Please n ...
| | |
| --- | --- |
| RATES FROM : €22.50 / £19.04 / $30.65 US | |
Surfiberia (Guesthouse)


Avd Antonio Garcia de Castro 34, Praia das Macas, Colares, Sintra, Colares, Portugal
Surfiberia is more than a lodge with rooms. It offers everything you need for a perfect holiday. Located within the beautiful town of Sintra, in Praia das Maçãs, between the mountains and the ocean, it has culture, sports, action and much more to discover. The town of Colares has one of the oldest wine cellars in Portugal and you can take tours and do wine tasting days,Praia das Maçãs also ...
| | |
| --- | --- |
| RATES FROM : €22.50 / £19.04 / $30.65 US | |
Quinta das Murtas (Guesthouse)


Rua Eduardo Van Zeller 4, Sintra, Lisbon, Portugal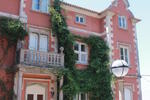 Built in late XIX century Quinta das Murtas embedded in UNESCO's Worlds Heritage. Sintra is a peaceful guesthouse located only 600 meters away from both the train station and the historical center. It has pool, jacuzzi, free parking and WIFI in the living rooms. Looking out the breakfast room there's a small garden that hosts several tropical birds. We offer double and twin rooms m ...
| | |
| --- | --- |
| RATES FROM : €2.50 / £2.12 / $3.41 US | |
European Explorer would like to wish you an enjoyable stay in Sintra, Portugal.