Warsaw Guesthouses
European Explorer is proud to offer you a secure online booking environment for a select number of guesthouses in Warsaw, Poland. Below you will find a brief description of each featured guesthouse in Warsaw, Poland. Simply clicking on the 'more guesthouse information' link will transfer you to further information such as room types offered and accommodation rates for your selected Warsaw Guesthouse. From here you will be able to check availability and make a secure guesthouse reservation for when you arrive in Poland.
Dandelion B&B (Guesthouse)


Denarowa 15,02-490 Warszawa, Warsaw, Poland
We offer standard accommodation in Bed and Breakfast (breakfast included) at Warsaw Italians only 6.5 km from the city center - We have seven comfortably furnished rooms available for guests is an independent kitchen, and parking in a closed housing estate. In a few minutes walk to station SKM find ( suburban train), which in a few minutes (two stops) will take you to the station witho ...
| | |
| --- | --- |
| RATES FROM : €169.47 / £136.56 / $219.85 US | |
B&B Nowolipki (Guesthouse)


ul.Nowolipki 2A/2400-160 Warszawa, Warsaw, Poland
Bed and Breakfast Nowolipki is in a building from the 1950s in the Muranow district, in the very centre of Warsaw, we have created a nice and family atmosphere especially for you. We offer three cosily and comfortably furnished rooms. The fully equipped kitchen and the dinette will let you prepare a meal, drink coffee or just sit with a glass of wine. A wide assortment of teas and coffee i ...
| | |
| --- | --- |
| RATES FROM : €29.50 / £24.96 / $40.18 US | |
B&B Warsaw (Guesthouse)


Sêkociñska Street Nr 5 flat nr 4, first floor., Warsaw, Mazowiecki, Poland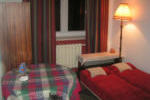 B&B Warsaw is an old style apartment in the centre of Warsaw city.The place is located in a very quiet neighbourhood, just minutesaway from downtown. A unique location, cosy apartment and reasonable prices make this a favourite place to stay.Guests stay in one of two rented rooms, which are a part of 100m2apartment. Each room has access to a bathroom, which islocated in the ...
| | |
| --- | --- |
| RATES FROM : €19.50 / £16.50 / $26.56 US | |
Hostelpalac (Guesthouse)


Warszawska 289, Warsaw, Poland
Hostelpalac is so far the most spectacular hostel in Warsaw situated only 15km from the capital center in the manor that was a birth place of Fryderyk Chopin. Hostelpalac is an ideal place for all motorized.The palace was built in 1855 and recently completly reburnished. It is sourrounded by as well old park and without any doubts is a jewel of architecture on Warsaw map. You can find her ...
| | |
| --- | --- |
| RATES FROM : €19.07 / £15.36 / $24.73 US | |
Helvetia Luxy (Guesthouse)


Bartoszewicza 1C, (reception only in Hostel Helvetia, see details), Warsaw, Poland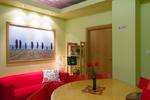 For the guests who love tranquility, modern interiors and an exquisite standard we recommend Helvetia Luxy located 3 minutes from our Helvetia Hostel.We offer sixteen spots in the following rooms:* Twin with bathroom, calming it's guests with the greenness entering through the window and leaving it's delicate reflection on the wall* Double with bathroom - skittishly pink, star ...
| | |
| --- | --- |
| RATES FROM : €17.29 / £13.93 / $22.43 US | |
Wawa Noclegi (Guesthouse)


ul. Lechicka 25, Warsaw, Poland
Wawa Noclegi Bed & Breakfast is located in a quiet area, but its location provides access to a wide range of facilities. Several grocery stores, pizza parlor, Vietnamese bar and fitness center with an indoor swimming pool are just around the corner. Trams and buses heading for the city center are just a two-minute walk away from the house. Warsaw Chopin Airport, the Warsaw International Ex ...
| | |
| --- | --- |
| RATES FROM : €14.32 / £11.54 / $18.58 US | |
Stalowa52 Hostel&Apartments (Guesthouse)


ul. Stalowa 52, Warsaw, Poland
Stalowa 52 Hostel&Apartments is a project connected with the one-hundred-year-old tenement house in Warsaw s Praga district. As one of the only districts in Warsaw, Praga has kept it's pre-war character, and with the dynamically growing alternative cultural scene, it's really the place to be. In the building at Stalowa 52, which has just been through a long-awaited renovation, we've created a ...
| | |
| --- | --- |
| RATES FROM : €13.98 / £11.27 / $18.14 US | |
Castle Inn by Oki Doki (Guesthouse)


Swietojanska 2, entrance from Plac Zamkowy, Warsaw, Warsaw, Poland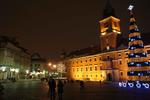 The only boutique accommodation within the Warsaw Old Town with all of the hotel facilities, 10 meters from the Royal Castle, All the windows face The Castle Square or the Cathedral.Each room is different and most of them are created by our friend artists in different styles.The Place You are dreaming while travelling. Comfortable, incredible with the most of value addded you can ...
| | |
| --- | --- |
| RATES FROM : €13.39 / £10.79 / $17.37 US | |
Chmielna Guest House (Guesthouse)


Chmielna 13/12, Warsaw, Poland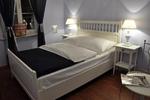 Chmielna St. Guest House has an unbeatable location in the very centre of Warsaw, a stone's throw away from Nowy Swiat - the most beautiful and symbolic street of Warsaw. It offers a comfortable, peaceful and elegant atmosphere. Chmielna has seven uniquely designed rooms, each with their own style and character, aptly named after specific cities. Hvar - A room for two, with one double bed and ...
| | |
| --- | --- |
| RATES FROM : €12.46 / £10.04 / $16.16 US | |
European Explorer would like to wish you an enjoyable stay in Warsaw, Poland.