Contact Liene
Overview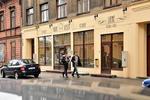 A small and comfortable private hotel in the center of the city offers light and clean rooms of nice interior and the required level of comfort. WC, shower, WiFi and cable TV is in each room. Some of the rooms incl. mini-kitchen, fridge, rest area a . . . more information about Liene
ALL RATES, AVAILABILITY and ONLINE RESERVATIONS for Liene are contained on this website. To view rates, availability and / or to make an online reservation for Liene, please select your requested travel dates and then click on the book online button. This will display all available rooms and rates. From this page you can continue and make an online reservation (if required).
View Rates / Make Booking
Liene Location Map
Liene Contact Form
Please ONLY complete the following contact form if you have a different GENERAL ENQUIRY about Liene.