Kos Hostels
European Explorer is proud to offer you a secure online booking environment for a select number of hostels in Kos, Greece. Below you will find a brief description of each featured hostel in Kos, Greece. Simply clicking on the 'more information' link will transfer you to further information such as room types offered and accommodation rates for your selected Kos Hostel. From here you will be able to check availability and make a secure hostel reservation for when you arrive in Kos.
Arcondia (Apartment)


Kefalos, Kos, Greece
Archondia apartments Kefalos is a wonderful seaside resort, where the sea is lovely decisamnete. Those who decide to stay in Kefalos is a lover of the sea and relax and have the chance to reach in few minutes (scooter or car) the most popular island beaches: Paradise Beach, Camel Beach, Sunny Beach etc. .. where the sea takes a thousand different colors. Archondia is 300 meters from the sea a few ...
| | |
| --- | --- |
| RATES FROM : €30.00 / £25.38 / $40.86 US | |
Kelly Kos Apartments (Apartment)


Megalou Alexandrou 36, Kos, Greece
Kelly Apartments are strategically situated just near Kos City centre, away from larger hotels, noise and the hum drum of passing vehicles but not too far away from the big party that is Kos Town Centre. Bike rental facilities, a large supermarket and a selection of restaurants are all within quick walking distance and the harbour and the main part of town are a mere 5-10 minute walk away and only ...
| | |
| --- | --- |
| RATES FROM : €20.00 / £16.92 / $27.24 US | |
Luis Hotel Apartments (Apartment)


Mastihari, Kos, Kos, Mastihari Kos, Greece
The Luis Hotel Apartments are housed in two adjacent buildings. They are set well back from the main route between Mastichari and Antimchea and are located in a quiet cul-de-sac shared only by a couple of other hotel / studio buildings and used only by a few local residents with nearby domestic property.All rooms are furnished with twin beds and have a private shower, WC and balc ...
| | |
| --- | --- |
| RATES FROM : €18.00 / £15.23 / $24.52 US | |
Archipelago - Psalidi (Hotel)


Psalidi, Kos, Greece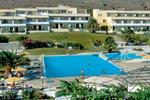 Archipelago hotel located on the hills of the wonderful Psalidi coast, 100m from the beach and 6 km south of the town of Kos. Your transport to the town is very easy by bus, stopping at the hotel entrance.All rooms have a balcony or a veranda and the choice of view it's absolutely a matter of your preference.Those of you who adore the sea may choose one of the 87 rooms overlooking ...
| | |
| --- | --- |
| RATES FROM : €54.50 / £46.11 / $74.24 US | |
Sun Palace - Psalidi (Hotel)


Psalidi, Kos, Greece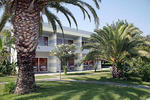 The hotel was full renovated and consists of 170 rooms distributed between the 3-storey main building and smaller 2-storey buildings of bungalows.The rooms are modernly furnished and are equipped with a private bathroom with bath, air conditioning, refrigerator, direct dial telephone, hairdryer and a balcony or terrace. The main building has a lobby, reception desk and a large sitting room ...
| | |
| --- | --- |
| RATES FROM : €46.25 / £39.13 / $63.00 US | |
Astron Hotel-Kos (Hotel)


31, Akti Kountouriotou Str., 31, Akti Kountouriotou Str., Kos, Greece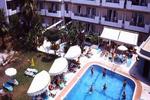 Astron Hotel operates all year round and offers a friendly and warm family atmosphere, and at the best relation of price and quality. The sandy beach (blue European flag) is only 300 m. away from the hotel and the restaurants and traditional Greek taverns and bars only a few meters. In our hotel, you can find Pegasus Bar and Andromeda restaurant with Greek and International cuisine, both holding e ...
| | |
| --- | --- |
| RATES FROM : €43.67 / £36.95 / $59.49 US | |
Katras Apartments - Tigaki (Hotel)


Tigaki Area, Kos, Greece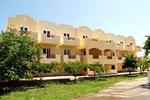 Each comfortable room is equipped with a private bathroom, kitchenette, TV set, independent air-conditioning, sofa, safety deposit box, central fire detector system and windows with double glass for your comfort. You can visit our boutique, where you will find a great variety of souvenirs and accessories. In our fast food restaurant you will experience a variety of special tastes. ...
| | |
| --- | --- |
| RATES FROM : €38.50 / £32.57 / $52.44 US | |
Zorbas Hotel (Hotel)


Tigaki, Kos, Greece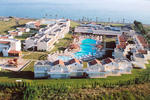 Zorbas Beach Hotel is an A class hotel situated in the town of Tigaki, just across the street from a shallow watered sandy beach. From the center of Tigaki it is app. 1,6 km., from Kos center app. 9 km. and from the airport app. 20 km. The hotel is a new, attractive and spacious unit consisting of several buildings and one main building decorated with a bright lobby and reception. It funct ...
| | |
| --- | --- |
| RATES FROM : €34.50 / £29.19 / $46.99 US | |
Gaia Royal - Mastihari (Hotel)


Mastihari, Kos, Greece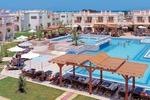 Gaia Royal Hotel is a very large holiday resort in village style at high class Category with its main building and several two-floor bungalows, offers magnificent vacations. The resort provides at the main building a original hotel lobby and reception (rental safes), lounge with Sat TV area, bar, restaurant with terrace and a mini market. Outdoors at the large gardens are 3 large freshwater swimmi ...
| | |
| --- | --- |
| RATES FROM : €33.75 / £28.56 / $45.97 US | |
Tigaki's Star - Tigaki (Hotel)


Tigaki, Kos, Greece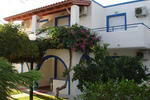 Tigakis Star is a comfortable family 3*** stars hotel with a capacity of 82 rooms and 7 apartments. Situated 300m from Tigaki beach, a famous summer resort of Kos Island with beautiful sandy beach and near a beautiful natural habitat with floral and fauna. On the beach there are water sports and umbrellas with charge.Tigakis Star has an outdoor swimming pool 25m length and 2.70m depth. For ...
| | |
| --- | --- |
| RATES FROM : €30.50 / £25.81 / $41.55 US | |
Tropical Sol Hotel (Hotel)


Tigaki, Kos, Greece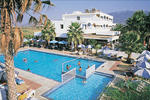 Tropical Sol is located only 200 metres from the sea in Tigaki, one of the most popular destinations of the island of Kos, approximately 10 kilometres from the Town of Kos.All rooms are supplied with air-conditioning, heating, satellite TV, refrigerator and balcony with view to the garden and the sea.Tropical Sol houses a cafe bar with garden view, a snack bar, swimming pool, playg ...
| | |
| --- | --- |
| RATES FROM : €28.75 / £24.33 / $39.16 US | |
Triton Hotel (Hotel)


Vasileos Georgiou 4, Kos, Greece
Located right across the main beach in the centre of Kos town, Triton Hotel offers air-conditioned rooms with balcony. It provides free Wi-Fi access and serves American breakfast.Triton rooms are elegantly decorated. They are equipped with cable TV, minibar and hairdryer. They feature parquet floors and soundproofed windows. Most rooms offer views of the Aegean Sea.Buffet breakfast ...
| | |
| --- | --- |
| RATES FROM : €24.50 / £20.73 / $33.37 US | |
Citi Hotel - Kos Town (Hotel)


Georgiou Papandreou & Thessalou, Kos, Greece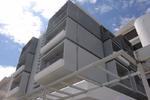 Citi hotel offers comfortable hospitality environment ideal for leisure relaxation and exploring Kos Town. Hotel has amazing location right beside the sea on the east coast. Hotel has 3 floors, all rooms are new and fully furnished with tile flooring. Rooms are non smoking and smoking. Walls are natural warm earth-colored.Hotel has Live Bistro Cafe on the ground floor. This is idea ...
| | |
| --- | --- |
| RATES FROM : €21.25 / £17.98 / $28.95 US | |
Kalimera Mare - Kardamaina (Hotel)


Kardamaina, Kos, Greece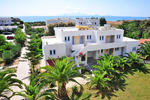 Kalimera Mare hotel offers its guests a memorable stay at its comfortable and stylishly decorated rooms which have sea view or overlooking the pool and the lush gardens of the property. Guests can swim and relax by the pool or the beautiful sandy beach.The hotel consists of a main building Diagoras and two bungalows, Aspasia and Ismini, and has two types of rooms: 35 large double rooms ...
| | |
| --- | --- |
| RATES FROM : €21.25 / £17.98 / $28.95 US | |
Gaia Garden (Hotel)


Lambi, Kos Island, Kos, Dodecanese, Greece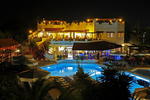 Welcome to Gaia Garden Hotel in Kos IslandThis charming, down to earth, hotel is located in the resort of Kos City in a quiet side road called Lambi. It consists of a main house surrounded by several bungalows, all nestling in the beautiful gardens created by the owners. Guests have the pleasure of enjoying this palm filled oasis from the comfort of their own patios. In the garden area guests ...
| | |
| --- | --- |
| RATES FROM : €16.80 / £14.21 / $22.88 US | |
Kos Bay Hotel (Hotel)


Artemissias Str., Kos, Dodecanese, Greece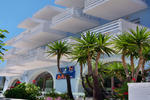 Discover all that Kos Island has to offer with Kos Bay Hotel as a base! The Kos Bay Hotel boasts a convenient location with modern amenities in every guestroom and superb service. Situated right across the new marina of Kos, 100m from the beach and minutes from the port, ferry terminal and bustling city centre, where trendy bars, shops, restaurants and many archaeological sites are situated. ...
| | |
| --- | --- |
| RATES FROM : €15.00 / £12.69 / $20.43 US | |
Hotel Koala (Hotel)


Harmiloy 21, Kos, Greece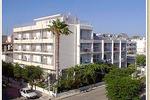 The newly refurbished Koala hotel is owned by a friendly family who quickly make you feel at home. Nothing is too much trouble, guests soon become friends with the family and come again and again.Our hotel is located in a peaceful area but not far away from the centre of Kos Town. All rooms are newly refurbished with balcony, air-conditioning, tv, hair-dryer, music, direct dial telephone ...
| | |
| --- | --- |
| RATES FROM : €13.34 / £11.29 / $18.17 US | |
Fantasia Hotel (Hotel)


Elefteriou Venizelou 1, Kos, Dodecanese, Greece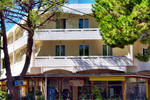 Feel the live pulse of Kos town and experience greek hospitality at Fantasia hotel. Steps from a wide variety of dining, shopping, cultural and entertainment options makes it the best choice among numerous 2 star hotels. The hotel offers a cafe/snack-bar on the ground floor- where guests can enjoy drinks and light meals- nearby ATM banking services and free parking. The studios and apartme ...
| | |
| --- | --- |
| RATES FROM : €12.50 / £10.58 / $17.03 US | |
European Explorer would like to wish you an enjoyable stay in Kos, Greece.