Mykonos Guesthouses
European Explorer is proud to offer you a secure online booking environment for a select number of guesthouses in Mykonos, Greece. Below you will find a brief description of each featured guesthouse in Mykonos, Greece. Simply clicking on the 'more guesthouse information' link will transfer you to further information such as room types offered and accommodation rates for your selected Mykonos Guesthouse. From here you will be able to check availability and make a secure guesthouse reservation for when you arrive in Greece.
Eleni's Village Suites (Guesthouse)


Klouvas, Mykonos, Greece
We invite you to join our family and unwind amidst a backdrop of peaceful fields and placid sea views here at Elenis Village Suites. Tucked away from the hustle and bustle of vivacious Mykonos town, Elenis Village Suites is a prime example of the understated elegance and hidden charm that our breathtaking island has to offer.Eleni's Village Suites delicately blends traditional Mykonian arc ...
| | |
| --- | --- |
| RATES FROM : €49.00 / £41.46 / $66.75 US | |
Eleanna's (Guesthouse)


Chora, Panahra, Mykonos Town, Mykonos, Greece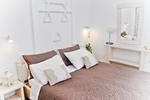 We strive to paint your Island dreams with all the shades of Mykonos - and we aim to please you at all times. It will be a memorable experience living with us to experience the Mykonian Lifestyle and to observe the Mykonian Architecture surroundings. We have turned our HOME into your HOME. -Designed with a unique Mykonian Architecture. -Surrounded by the customed whitewashed ...
| | |
| --- | --- |
| RATES FROM : €20.00 / £16.92 / $27.24 US | |
Evgenias Garden (Guesthouse)


Argiraina Mykonou, Mykonos, KYKLADES, Greece
All rooms of Evgenias Garden have AC, TV, a fridge and free WiFi. We have double beds, 2 single beds and triple bedrooms. It's located 1 km from the city center and there is a bus service to the beaches and to town as well. The manager is there during the day for any help you need. The guest house is opposite the city hospital. All rooms are cleaned and provided with clean tools ev ...
| | |
| --- | --- |
| RATES FROM : €20.00 / £16.92 / $27.24 US | |
Villa Vasilis (Guesthouse)


On the crossing Airport-Paradise beach, Mykonos, Greece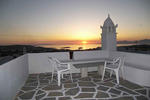 Built in tradional mykonian style it offers you the choice of apartments and studios with a lot of facicilities. Our guesthouse is located near the centre only about 12-15min walking from the town center.It is on the way to Paradise beach, the most beatiful beach on the island. All the rooms have private shower, TV, fridge, kithen with cooking facilites, A/C,also nice sea view. Free transf ...
| | |
| --- | --- |
| RATES FROM : €20.00 / £16.92 / $27.24 US | |
Orpheas (Guesthouse)


Agiou artemiou, Niohori, Mykonos, Greece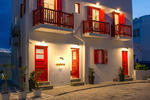 Down Town rooms next to the bus station,windmills and little venice.Fully equipped with mini-fridge, safe box,a/c and TV.Stay in one of the most piqturesque little streets of the island and be part of the famous cosmopolitan atmosphere of Mykonos.You can reach the island by boat from Athen`s port. Also by plane from Athen`s El.Veneceloz int airport, ...
| | |
| --- | --- |
| RATES FROM : €18.33 / £15.51 / $24.97 US | |
Andriani's Guest-House (Guesthouse)


Over School of Fine Arts, Mykonos Town 84600, Mykonos, CYCLADES, Greece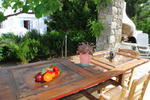 Andriani's Guest-House is SOLAR powered and located in Mykonos town on the wonderful island of Mykonos. Mykonos is located next to the famous centre of ancient Greece: Delos island.The guest house provide Wi-Fi HotSpot access and consists of 6 rooms, 5 studios and 1 apartment. They are very comfortable, recently renovated and most of them have view of the town and the port of Mykonos. ...
| | |
| --- | --- |
| RATES FROM : €17.00 / £14.38 / $23.16 US | |
Mamas Pension (Guesthouse)


401 St. Stefanos Beach, 84600 Mykonos, Mykonos, Greece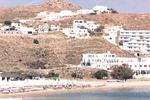 Mama's Pension is a traditional family establishment. It offers rooms and studios with private facilities and panoramic views of the Aegean Sea. The sunset can be enjoyed by guest from their balconies or Mamas breakfast veranda, which is the meeting point of the house.The house has 12 rooms ranging from small, cheap rooms to studios with kitchen and TV. The owner's cousin offers guests th ...
| | |
| --- | --- |
| RATES FROM : €15.00 / £12.69 / $20.43 US | |
Studio Eleni (Guesthouse)


Mykonos center, Mykonos island, Mykonos, Greece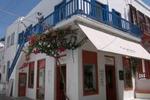 Studio Eleni is ideally located in the heart of the center of Mykonos town, in a quiet area next to the little Venice and the bus station.All rooms are equipped with colour TV, mini bar, air conditioning and free wi-fi conection. If a friendly and relaxed atmosphere is what you are looking for, then let us welcome you to Studio Eleni with a comfortable and hospitable accommodation. ...
| | |
| --- | --- |
| RATES FROM : €15.00 / £12.69 / $20.43 US | |
Nikos Rooms (Guesthouse)


Vrisi Mykonoy, Tagoo Mykonoy, Mykonos, Kyklades, Greece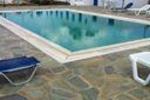 Nikos Guesthouse is very close to the city centre.We have double and triple bedrooms with AC, fridge, TV, private bathroom and showers. There is hot water 24 hours a day.We are within walking distance from the night life of Mykonos and offer a majestic view of the port of Mykonos. AT vrisi guest house you can Relax at our swimming pool whenever you feel like it! We have a f ...
| | |
| --- | --- |
| RATES FROM : €12.33 / £10.43 / $16.80 US | |
Villa Ftelia (Guesthouse)


Ftelia Beach, Mykonos, Cyclades, Greece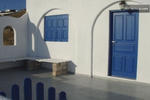 Villa Ftelia is a traditional Mykonian building located in the charming bay of Ftelia. It is the ideal location: on a hillside, 500m from the beach, and 7,5km from the port, the town and the airport. It is built on a private area of 4.000 m2, which ensures ultimate privacy to the visitor.Arriving on the private parking of the villa, the green garden welcomes you providing shadow and a rela ...
| | |
| --- | --- |
| RATES FROM : €10.67 / £9.03 / $14.53 US | |
Morfoulas Studios (Guesthouse)


Despotika, Mykonos, Greece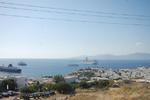 Morfoulas Studios are located 80m from the center of Mykonos Town, on a hill overlooking the Aegean Sea. For those who prefer to stay close to Mykonos vibe, Morfoulas studios is the best choice for them.Being really close to the heart of Mykonos island, Morfoulas Studios offer both relaxed and vivid holiday experience to their guests. These apartments were build following the traditional C ...
| | |
| --- | --- |
| RATES FROM : €10.00 / £8.46 / $13.62 US | |
European Explorer would like to wish you an enjoyable stay in Mykonos, Greece.