Contact Hotel Acacias
Overview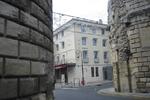 The Acacias Hotel is located in the Cavalerie district of Arles; at the beginning of the historical centre when coming from the direction of the railway station. It is therefore possible to reach, within a few minutes on foot, all of the monuments an . . . more information about Hotel Acacias
ALL RATES, AVAILABILITY and ONLINE RESERVATIONS for Hotel Acacias are contained on this website. To view rates, availability and / or to make an online reservation for Hotel Acacias, please select your requested travel dates and then click on the book online button. This will display all available rooms and rates. From this page you can continue and make an online reservation (if required).
View Rates / Make Booking
Hotel Acacias Location Map
Hotel Acacias Contact Form
Please ONLY complete the following contact form if you have a different GENERAL ENQUIRY about Hotel Acacias.