Contact Rupa pod oblacima
Overview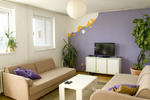 If You consider a short or long stay in Zagreb, we offer you a pleasant and cozy accommodation at a three star condo, near the centre, only ten minutes away from Jelacic Square by tram. Our accommodation is on the 14th floor in a residential building . . . more information about Rupa pod oblacima
ALL RATES, AVAILABILITY and ONLINE RESERVATIONS for Rupa pod oblacima are contained on this website. To view rates, availability and / or to make an online reservation for Rupa pod oblacima, please select your requested travel dates and then click on the book online button. This will display all available rooms and rates. From this page you can continue and make an online reservation (if required).
View Rates / Make Booking
Rupa pod oblacima Location Map
Rupa pod oblacima Contact Form
Please ONLY complete the following contact form if you have a different GENERAL ENQUIRY about Rupa pod oblacima.